Campaigning for sustained sales growth
Kulzer is a world-leading dental company with its headquarters in Hanau, Germany.  With more than 1,500 employees across 26 locations worldwide, the company is driven by a passion for the dental market and its core beliefs of service, quality and innovation. The company's focus is developing and providing best-in-class products and services which are reliable and innovative.
As part of the Japanese Mitsui Chemicals Group since 2013, Kulzer supplies dentists and dental technicians with an extensive range of products with applications in:
Cosmetic dentistry
Tooth preservation
Prosthetics
Periodontology
Digital dentistry
Kulzer's vision is to be 'the lifetime partner of our customers', through a deep understanding of the evolving needs of dental professionals and their patients and development of unique specialist products. Kulzer's aim is to help customers restore a patient's oral health and well-being in the safest, most convenient and cost-effective way.  The products developed and distributed by the company include composite restorative materials, impression materials, bonding agents, alginates, dentures, bite registration materials and diamond burs.
Reliable, professional support with attention to detail
Appointed over 20 years ago to provide a bespoke marketing and PR service, The Niblett Whellams Partnership (TNWP) has supported Kulzer's UK and Ireland subsidiary through several transitions.
Our support has evolved to meet the changing requirements of the dental profession and Kulzer.  Working closely with the in-house sales and marketing teams, we have become a natural extension of the Kulzer family, helping to increase visibility and awareness of the company and its products, and provide an enhanced level of service to the company's key opinion leader customers.  Our campaigns have generated extraordinarily high response rates, resulting in significant uplift in market share.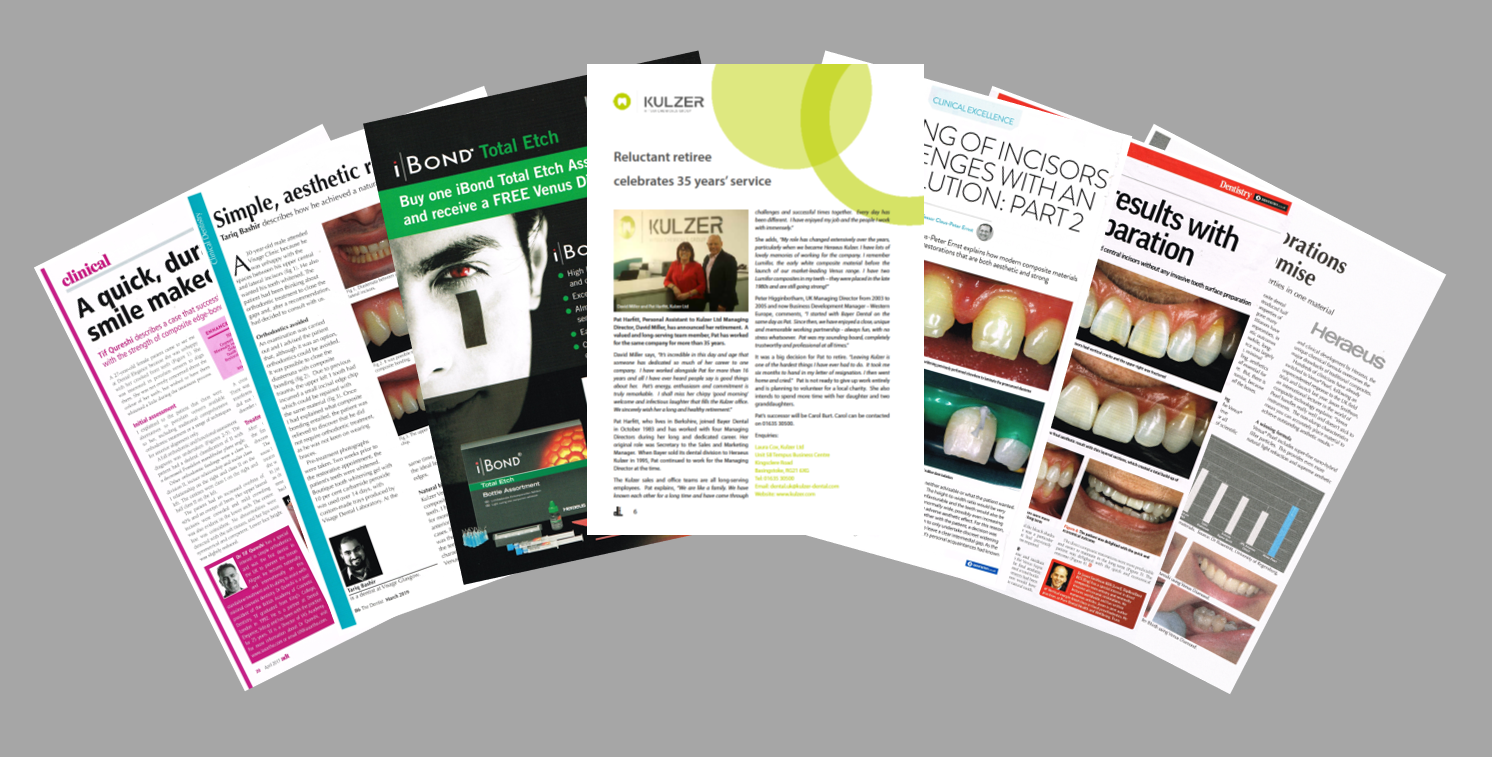 "TNWP has been instrumental in taking us to the top of our game, playing a key part in growing our product brands from launch to market leading positions."
David Miller, Kulzer Limited Managing Director
Using our in-depth knowledge of the dental profession, our services have covered:
Providing marketing strategy and planning support
Communications advice for corporate restructuring, mergers, takeovers, transitions into new markets and product development
Developing a wide range of initiatives and materials, including:

Newsletters
Leaflets
Direct mail campaigns
Product special offers and launches
News releases and features
Advertorials

Carrying out a range of qualitative and quantitative market research
Managing a regular press presence through development and distribution of a programme of clinical articles to:

Extend the service that Kulzer provides to its customers through showcasing their work amongst peers
Raise awareness of Kulzer's products and create a consistent message aimed at the profession
Support the sales and business development process
Deliver a service which matches Kulzer's high-quality range of products

Providing editorial, media management and translation support for case articles authored by international clinicians
Supplying advice and guidance on GDPR compliance